Three things you will find on the all-new Hyundai Veloster N
January 31 2018,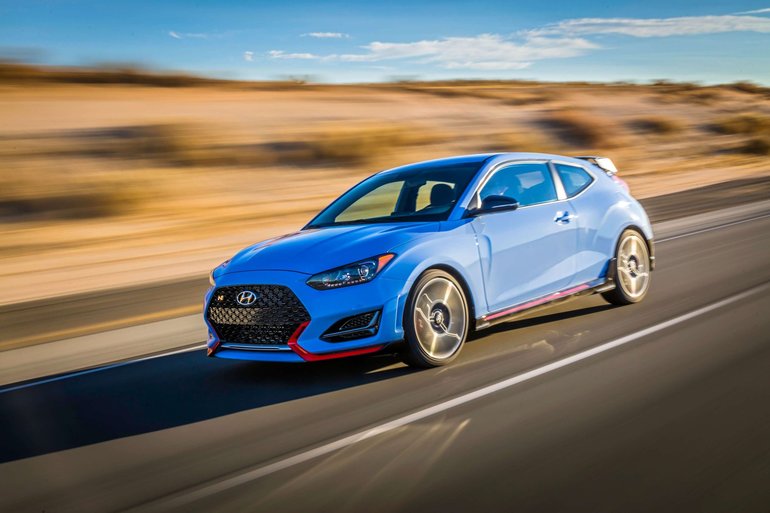 With the brand new 2019 Hyundai Veloster N, buyers get a vehicle that very few ever expected to see. It's in essence a performance Hyundai that should still fit the needs of budget conscious buyers. With the 2019 Hyundai Veloster N, you are getting performance at an unbeatable price. For this article we will focus on some of the highlights of the sportiest Hyundai to be unveiled to date, the brand new 2019 Hyundai Veloster N.
Here are three things you will want to check out on Hyundai's newest pocket rocket which, by the way, will arrive at Bruce Hyundai towards the end of 2018.
A very powerful turbocharged engine
The 2019 Hyundai Veloster N will feature a very powerful turbocharged four-cylinder 2.0-liter engine that delivers 275 horsepower and an impressive 260 pound-feet of torque. This engine, paired with a six-speed manual transmission, will allow the new Veloster N to get to 100 km/h in less than 6.0 seconds. It will also feature what Hyundai class the N Power Sense Axle design which provides impressive handling and better on-center stability. Steering linearity is also improved with N Power Sense Axle.
There will be different driving modes in the Hyundai Veloster N
The new 2019 Hyundai Veloster N will feature five driving modes which will change how the car behaves both on the road and on track. You will be able to opt for an Eco mode which will provide better fuel economy, or Normal mode for everyday driving. If you want to have a little more fun out on the road, the Sport mode is at your disposal.
That said, for days when you are headed to the track, you can opt for N or N Custom modes. These modes adjust damping, throttle response, steering, engine speed rev-matching a wide range of other components to provide optimal performance in any situation.
The Hyundai Veloster N will still have three doors
The Hyundai Veloster is still the only asymmetrical car in the world as it has two doors on one side and just one on the other side. That won't change with the brand new Hyundai Veloster N nor the redesigned 2019 Hyundai Veloster.
To learn more, contact us today at Bruce Hyundai!