The Hyundai Kona shown for the first time in North America in Los Angeles
November 29 2017,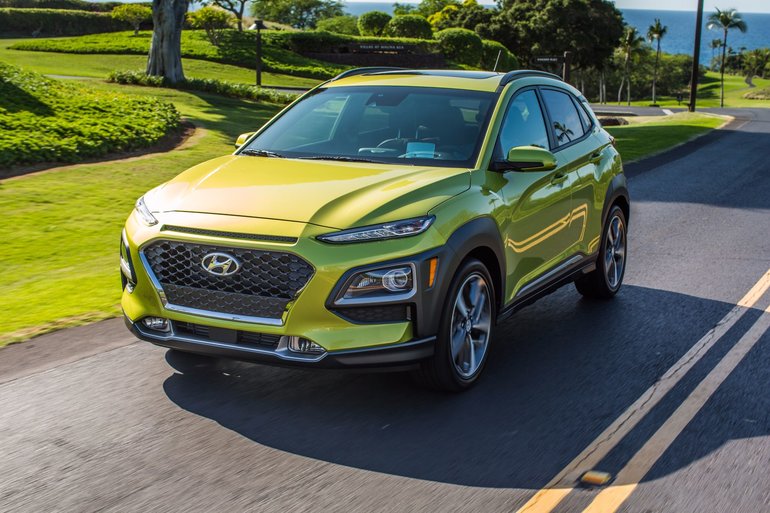 When it comes to sport utility vehicles, basically every segment and type are doing very well in both Canada and in the United States. There are a lot of consumers out there who need a lot of interior space, and that's what you get in most SUVs out there. And there are the subcompact sport utility vehicles, a brand new segment that has been growing at an incredible pace in recent years.
The newest model to join the market is the Hyundai Kona, a vehicle that was first unveiled to the world in Korea in June. The Kona will look to stand out by offering buyers a wide range of safety and connectivity features along with a sporty, dynamic chassis and an impressive lineup of engines.
A turbocharged engine for the new Hyundai Kona
The Kona will be one of the few sport utility vehicles in its class to offer a turbocharged engine when it goes on sale in a few months. Indeed, the 1.6-liter turbocharged four-cylinder engine in question will aim to stand out by offering buyers both power (175 horsepower and 195 pound-feet of torque) and fuel economy.
This engine will be paired with a seven-speed dual-clutch automatic transmission which is again something rather unique for this segment. The entry-level engine will be another four-cylinder, this time with 147 horsepower and 132 pound-feet of torque, and a six-speed automatic transmission.
The new Hyundai Kona will be built on a unique platform from Hyundai, one that features a high concentration of high-strength steel which means a stiffer, more rigid platform and improved safety, comfort, performance on a winding road and more.
There will also be a wide range of active safety systems in the brand new Hyundai Kona including features like rear cross-traffic alert and blind spot monitoring, attention assist, lane keep assist, and much more.
To learn more about the upcoming Hyundai Kona, contact us today at Bruce Hyundai!